The People's Karaoke Contest is all a matter of history now, the winner has been crowned. This has been one of the most difficult and challenging undertakings in my entire 22 + years of running karaoke shows, but also very rewarding. I designed from the ground up the fairest most thorough contest that I could possibly imagine. I am certain that there were things that if I could go back to the beginning and change I would, but hindsight is of course always better. Anyone that has any questions about the scoring please feel free to request the original handwritten score sheets as any and all of that material is to remain public record as promised for your inspection. Great job to all of those that participated through the many long weeks of qualifying all the way through semi's and of course the long awaited finals. I thank our judges who made such critical and difficult decisions guaranteeing an equal chance to all our contestants. I want to thank Maria for her dedication and assistance week in and week out entering all of the scores into the computer all out of the kindness of her heart. Also to my girl Ashley who had to cope with my stress throughout the process. The Roadhouse for hosting all of us, and the staff that kept our fluid intake at appropriate levels.
Bryan R took 1st place and $300
Sarah J took 2nd place and $150
Raymond S took 3rd and $50
I also received an awesome thank you card that i believe that nearly all of the finalists and judges signed. I can not do this without each and every one of you that come out to my shows and support our venues.
THANK YOU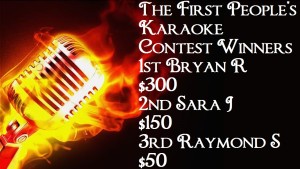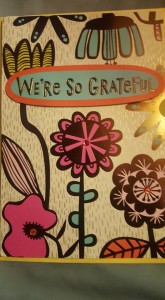 CHANGES IN THE NIGHTS DUE TO UNFORESEEN CIRCUMSTANCES EVEN IF YOU ALREADY CONTACTED ME YOU NEED TO DO SO AGAIN, I AM TRULY SORRY FOR THE MIX-UP
The People's Karaoke Contest Semi's AND Finals will all be on Thursday nights 8-25-16 and 9-8-16 with for semi's and the Finals will be 9-15-16 Originally the 2 semi final nights were going to be drawn at random to decide which night they would be performing, but because it took longer than expected to complete the contest we will be contacting everyone that qualified and do our best to set that person into which of the two nights they prefer. FIRST COME FIRST SERVE THIS MEANS YOU MUST CONTACT ME WITH YOUR PREFERRED NIGHT BY MONDAY 8-22-16. There will be two SEPARATE semi-final nights EVERY OTHER WEEK 10 semi-finalists will perform each night, you are not REQUIRED to come both nights just the night you are scheduled to compete, if you are unable to attend both of the possible SCHEDULED nights i will have no other choice but to give your spot to the alternate for the night or if that person is not there then the next highest scoring alternate will move up. A number of people entered more than once and hold both an alternate slot and a semi spot in those instances i will be trying to contact the 4th runner up for those nights to see if they would like to attend in the hope they will move into a slot. Please Make all contact regarding the contest via my facebook firstfacebook.com/karaoketom and if absolutely required email at tom_calhoon@yahoo.com or as a last resort 509-220-8594 (I sleep odd hours) Good luck everyone!!
Week 1
Sara Jetter
Laura Poulin
Rick Goodrum
Week 2
Rick Goodrum
Maria Sunshine Seeberger
Cathy Petheram
Week 3
Jennifer Bowman
Raymond Sanderson
Jack Powell
Week 4
James Tillett
Jesse Van Orso
Susan Combs
Week 5
Reanna Westover
Nathan Ray
Charles Oueis
Week 6
Randy Porter
Martin Burke
Cathy Petheram
Week 7
Cathy Petheram
Ann Perkins
Debby Stotts
Week 8
Nicole Garner
Kristina Arnold
Georgia Dierks
Week 9
Mekhenna Clixto
Sean Jacobson
Ruth Riopelle
Week 10
Bryan Ross
Susan Combs
Devon Hughes
The People's Karaoke contest first prelim night is in the books, there were a few small snafu's, but we made it past them. That said, I was surprised by the outcomes and the two people that will be moving forward this week are Laura P. and Sara J. with Rick G. as the alternate.
Night 2 4-28-16 Moving forward Rick G. Sunshine and Cathy P. as alternate.
Night 3 5-5-16 Moving forward Jennifer B and Raymond S with Jack P as alternate.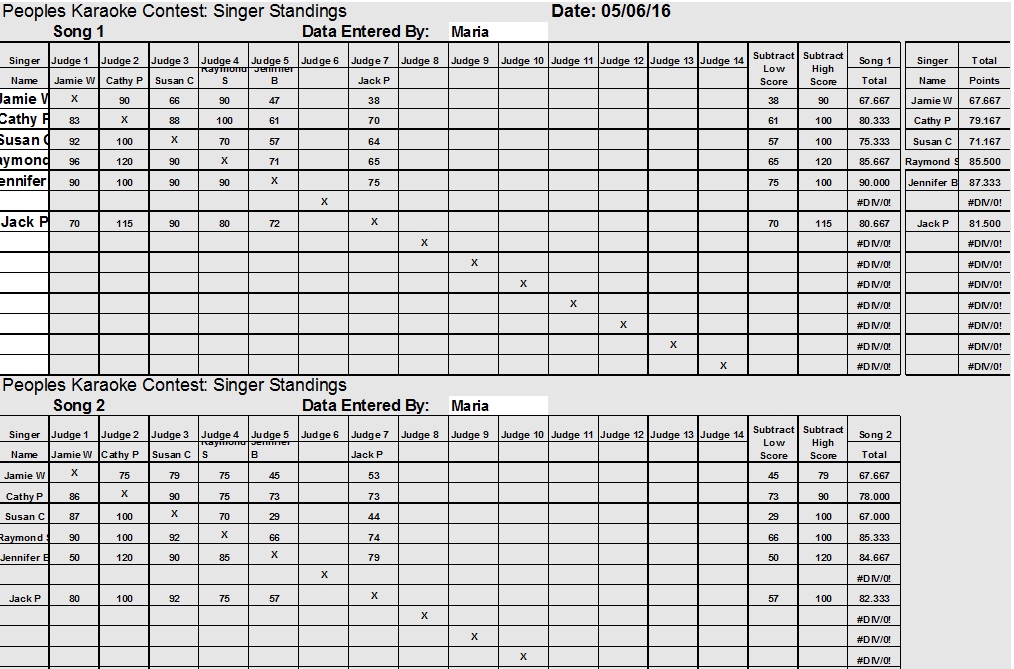 Our fourth preliminary round of ten is in the books, with J.T. Pain and Jesse V. moving to the semi's with Susan as the alternate for the night.
Night five of ten is in the books with Reanna 1st and Nate R 2nd with Charles O as alternate for the night!
Preliminary night 6 of 10 is the books, with Randy in 1st and Martin in 2nd with Cathy the alternate for the evening. Unfortunately there was a disqualification, one of the contestants left the stage, which I was going to let the other contestants rate him accordingly for doing so, then realized he had not scored three of the other contestants before him, so had no choice but to nullify his entry. 4 more weeks of qualifying to go so 20 people will go to semi's.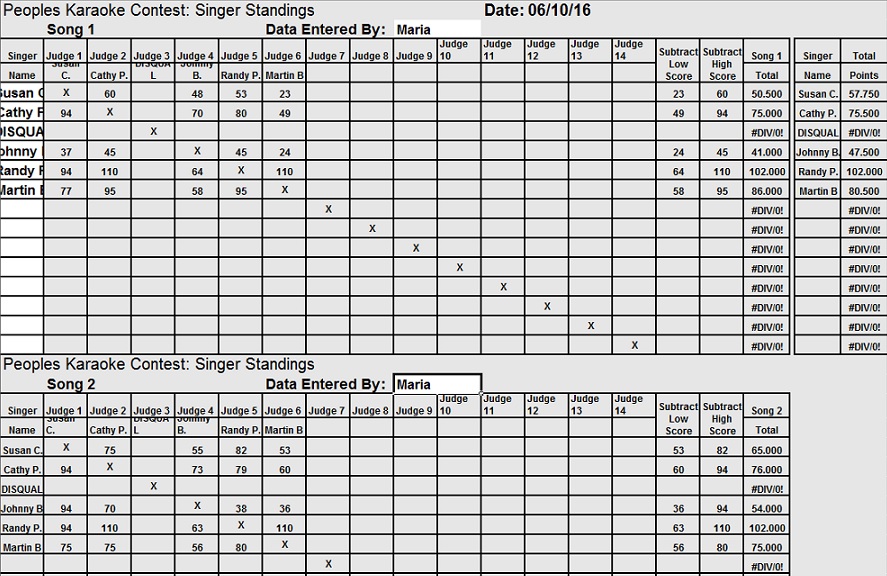 The People's Karaoke contest 7th qualifying night was held last night with just a bit of controversy; First, one of our contestants bailed out on us, but thankfully with unanimous consent of the remaining five contestants Mia Coffee (who will be a professional judge in the semi/final rounds) was in attendance and scored the second song, making the night's contest possible. Without those scores we would have had to call no contest for the night. Second the final numbers were
misread, which caused me to announce the order of the night incorrectly. I alone am responsible for not double checking the order and as soon as this is posted will be researching a way to make the excel program color the final scores gold, silver, and bronze so that such an error will NEVER EVER happen again. In regards to the problem of a contestant leaving mid contest we will be adding a guest judge whose scores will ONLY be used if a contestant leaves and the remaining contestants agree unanimously to use that guest judge's scores. SO the final order of last night's contest are 1st Anne P 2nd Cathy P and alternate Debra S. to which I owe a huge apology to, I am so sorry for the confusion, and you have my word, this will never happen to another contestant again. In all truth I have always expected that we would find bugs in this totally unproven concept along the way and I am working diligently to fix them as they are found to provide legitimacy to a truly fair contest, but again I am solely responsible for this error and have spoken with both of the effected contestants and believe that we have found a mutually acceptable resolution.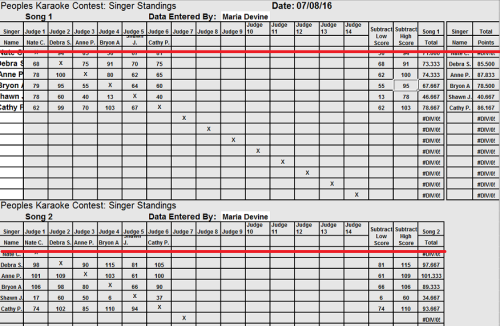 We finally have 8 qualifying rounds under our belts, which means that 16 contestants have qualified of the 20 that will go forward to the semi-finals. 20 go to semi's that will be broken into 2 nights of semi-finals, which will send 10 people to the Finals vying for a total of $500 in cash paid to the top 3 finishers. Moving forward tonight was Nicole G in 1st with Kristina A in 2nd with Georgia D as alternate for the night. There are just 2 more Thursdays left to qualify!!!!!!!!!!!!!!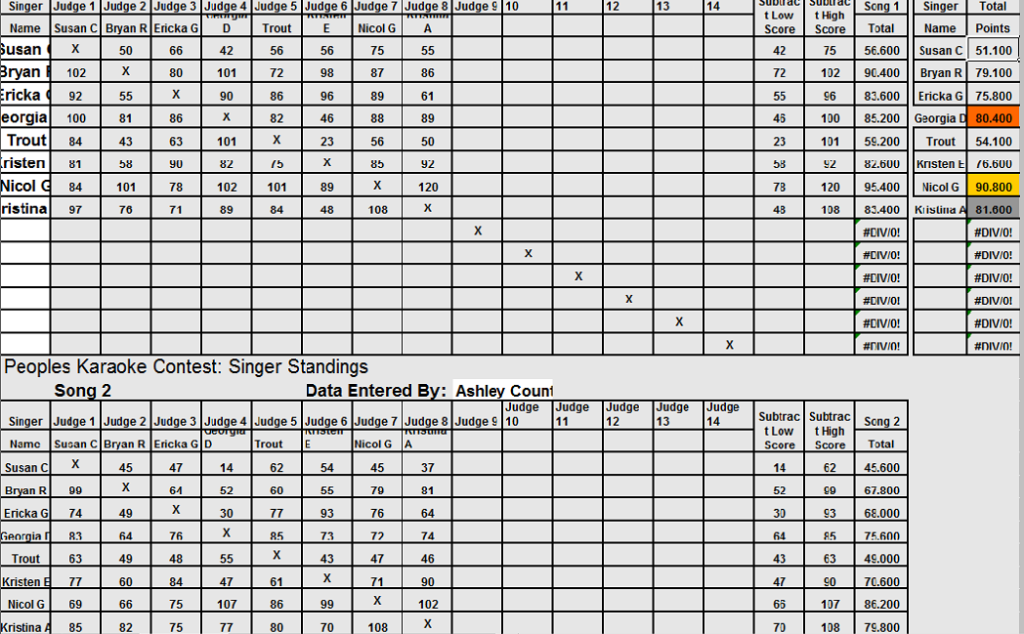 YAY !!!!!!!!!!!!! We had another contest, and i was so thankful for my peeps coming out and supporting The People's Karaoke Contest. Mekyhna took first with Sean taking second and the two of them are going to the semi-finals, with Ruth the alternate! We have just ONE more chance to get into the semi's
Last night we had our last qualifying night before semi's Bryan R took 1st, Susan C 2nd and Trout will be an alternate for the evening. We have completed the qualifying phase of The People's Karaoke Contest, that means 20 people have qualified to go to the semi-finals split 10 each between 2 consecutive Thursday nights 8-21 and 9-1. I will be contacting all of the semi-finalists soon to let them know. Alternates it would be in your interest to come to the semi finals in case any of them do not show up.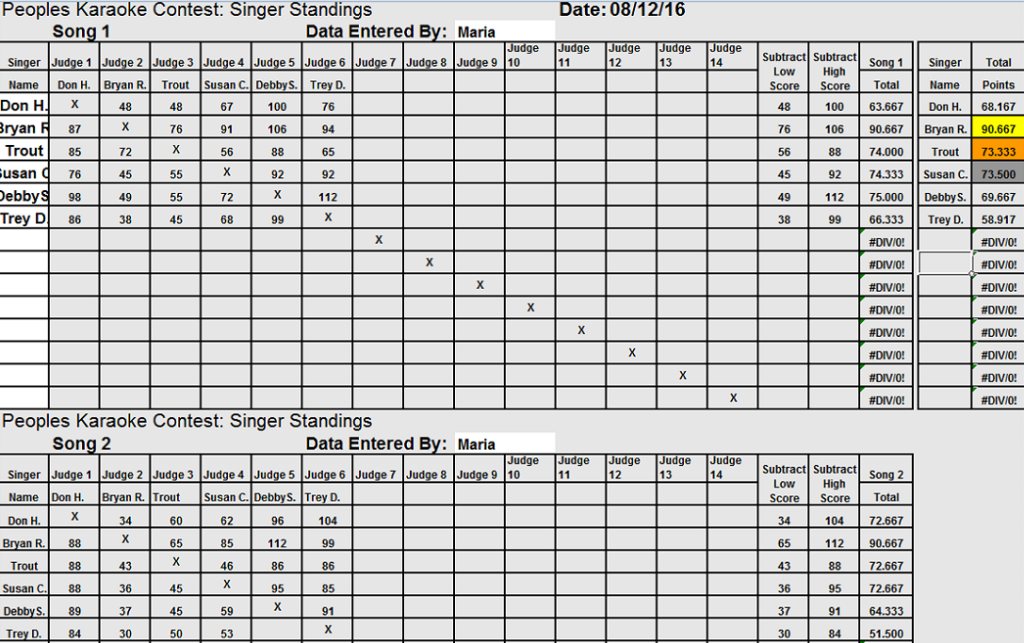 41total visits,5visits today